PROGRAM DESCRIPTION:
The cabinetmaking program is designed for aspiring professional furniture makers and dedicated amateurs who seek in-depth training at the highest standard of excellence. The hands-on, project-oriented format includes the full range of furniture making skills. Sequential projects take students from the fundamentals through the fine points of design and craftsmanship. Cabinetmakers are specific types of woodworkers who create and install cabinets in bathrooms, kitchens, other areas of homes and businesses. Typical duties of cabinet makers include designing custom cabinets, making cabinets, installing cabinetry, consulting with clients and other duties as needed. Cabinet makers are responsible for cutting and shaping wood, preparing surfaces and forming a completed product.
OCCUPATION DESCRIPTION:
Cut, shape, and assemble wooden articles or set up and operate a variety of woodworking machines, such as power saws, jointers, and mortisers to surface, cut, or shape lumber or to fabricate parts for wood products. Excludes: "Woodworking, Machine Setters, Operators, and Tenders".
PROGRAM STRUCTURE:
The following table illustrates the PSAV program structure: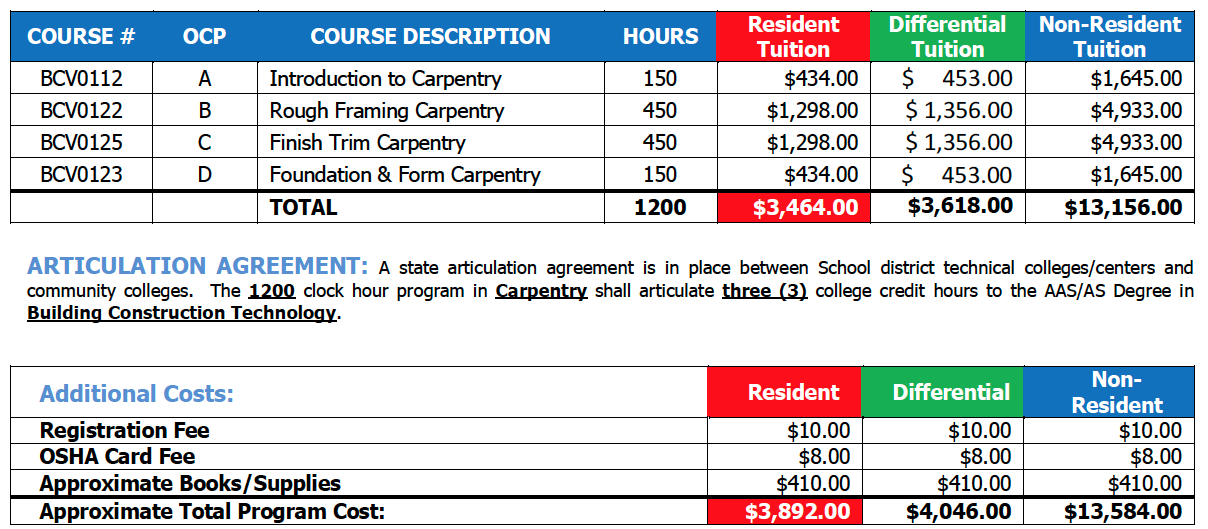 PROGRAM REQUIREMENTS:
AGE: 16 years or older
DIPLOMA: N/A
TABE: MATH 9.0 LANGUAGE 9.0 READING 9.0 - or meet other basic skill requirements
Must be able to lift up to 50 lbs. and climb a ladder
Industry Certification: NCCER Carpentry - Levels 1 - 5
NCCER Level Exam Fee – $3 per Test
Other testing fees may apply
LIVE WORK FEES:
Advisory Salary Range: $20,000 - $50,000 Shop Fees:
Florida Panhandle: $19,920 - $48,720 Materials plus 10% + 7% sales tax
PH Average: $30,860 Small Jobs: $5-$45
State Average: $33,900 Medium Jobs: $45-$75
National Average: $40,500 Large Jobs: $75 & up
CNC Jobs: $5 + .10 per inch

(All jobs require administration and program instructor approval.)
Program Completion Rate: 100% - Program Placement Rate: 100% - Program Certification Pass Rate: 100%